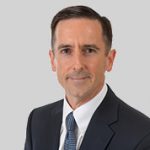 Lawrence Strong
Director of Fiscal Services, San Bernardino Community College District
Lawrence Strong has served the San Bernardino Community College District since 2013 and is currently the Director of Fiscal Services, where he oversees the district budget and accounting operations.
He is a Certified Public Accountant and has 30 years combined experience in auditing, accounting operations, compliance, financial reporting and corporate lease administration.  Prior to joining the District, he served from 2003 to 2013 at Hot Topic, Inc., most recently as Assistant Controller, where he had direct responsibility for internal audit, external financial reporting and other accounting operations.
Lawrence is a product of the community college system, getting his start at Fullerton College.  He has a bachelor's degree in accounting from Brigham Young University and this year will complete his Master's of Public Administration at Cal State San Bernardino.  He and his wife of 30 years reside in Highland, California and are the proud parents of 5 children.