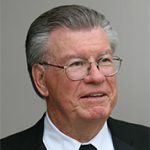 Kenneth Miller
Public Member
Kenneth Miller is a California native, born in the Fresno area and a longtime resident of San Bernardino County.  He attended local schools in the San Bernardino area including San Bernardino High School and San Bernardino Valley College.  He graduated from California State Polytechnic University, Pomona in 1970 with a Bachelor of Science Degree in Civil Engineering.
He commenced work with the San Bernardino County Flood Control District in 1971, became a registered professional engineer in California in 1973 and continued working for San Bernardino County in the areas of flood control, transportation, solid waste and regional parks over a period of 33 years.  He was active in the County Engineers Association of California for many years, serving on its Board of Directors in various capacities including Newsletter Editor for ten years and as the President in 2001.  He eventually retired from the San Bernardino County as the Director of Public Works in 2004.
Following his retirement from the San Bernardino County, he worked as a special projects manager for the City of Yucaipa for six years and began serving as a county appointed board member in 2012 on the Oversight Board for the Successor Agency to the Yucaipa Redevelopment Agency.